Child Care Subsidy Application Form
Important! The Child Care Subsidy Application Form:
can not be opened with a
web browser

.
is not compatible with
phones or tablets

.
Step 1: Download and install Acrobat Reader
This software is required to view, print, or complete this application form electronically. It can be downloaded, free of charge, from http://get.adobe.com/reader/otherversions.


Step 2: Download the required Application Forms

Note: These files will automatically be saved to your computer.


Step 3: Open the Application Form
Open the Acrobat Reader software.
In the main menu, click File > Open...
Locate the application form that you downloaded to your computer, and open it.
You may need to go to your download/saved file location if the PDF form is not readily visible on your screen.
You may see a "Please wait..." message when you navigate to open the file.
This is normal, and would look similar to the imaged linked here. The file should open as long as you are using a current version of Acrobat Reader.


Step 4: Complete the Application Form
Fill in the required information using one of two methods:
Pen and Paper: print the document and fill it out manually.
(Paper applications can only be submitted by mail.)
Electronically: enter information into each field by typing or by copying and pasting text. You will be able to save your data and re-open the file later to modify or enter additional information.
(Electronic applications may be submitted through secure file transfer.)


Step 5: Check for Completeness
Items highlighted in

red

are required.
If you are completing the form electronically (in Acrobat Reader), the red highlighting will change depending on your responses.
If you are completing a printed form (pen and paper), required sections will be noted with an asterix (*). Complete as much detail in those areas as is needed for your circumstances.
Incomplete applications will not be processed. Please ensure that you complete all required fields.


Step 6: Gather your Supporting Documents
As you fill out your application, note where paperclip

 icons are displayed.
These icons will indicate where there are documents that you are required to submit with your application.
Your documents can be in paper format, digital format (e.g.: scanned image files, photographs), or both.


Step 7: Submit your Application
You have 2 options for submitting your application & supporting documents.
Option 1 - Secure File Transfer (PDF application forms and digital files)
Complete the form fields.
Attach your completed application form (PDF file).
If you have any digital versions of your supporting documents, attach these as well.
Click 'Send'. The information will be securely sent to the Child Care Subsidy Program.
If you still have paper documents to submit, they should be mailed - or hand delivered - to your local regional office, found below.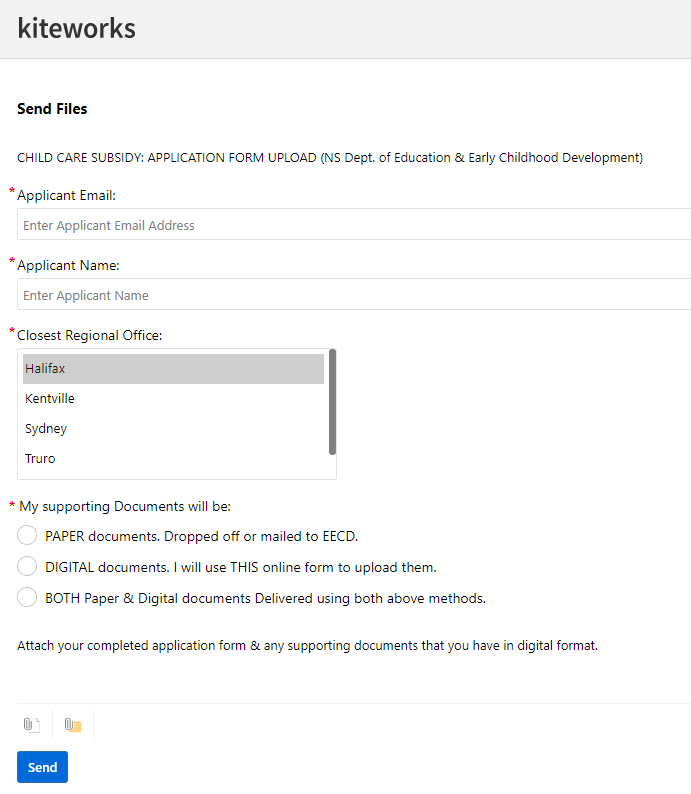 Option 2 – Canada Post / Hand Delivery (paper forms and/or paper documents)
Child Care Subsidy Regional Office Locations
Halifax Office
Department of Education and Early Childhood Development: Child Care Subsidy Program
2021 Brunswick St
P.O. Box 578
2021 Brunswick Street
Halifax, NS B3J 2S9
Intake: 902-424-2084
Intake Toll Free: 1-844-804-2084
Truro Office
Department of Education and Early Childhood Development: Child Care Subsidy Program
60 Lorne Street, Room 100
Truro, NS B2N 3K3
Phone: 902-893-6167
Toll free: 1-844-893-6167

Kentville Office
Department of Education and Early Childhood Development: Child Care Subsidy Program
76 River St.
Kentville NS B4N 1G9
Phone: 902-678-5108
Toll free: 1-877-442-4415
Yarmouth Office
Department of Education and Early Childhood Development: Child Care Subsidy Program
10 Starrs Road, Suite 127
Yarmouth, NS B5A 2T1
Toll free: 1-844-742-0703
Phone: 902-742-0703

Sydney Office
Department of Education and Early Childhood Development: Child Care Subsidy Program
1030 Prince Street, Suite 6
Sydney, NS B1P 5P6
Phone: 902-563-2750
Toll free: 1-844-794-5110