Child Care Subsidy
Review of Continued Eligibility
Nova Scotia's Child Care Subsidy Program is required to review each client file yearly to confirm continued eligibility.
Depending on your situation, you may be required to complete one of the following two forms:
A Child Care Subsidy Review of Continued Eligibility, or,
A Consent Form
If a Child Care Subsidy Caseworker has directed you to this website to download and complete one of these forms, please read the information below and follow the instructions for the requested form.
If you are not sure if you are required to complete a a review, or which type of form you are required to complete, please contact your caseworker.

The forms are in fillable PDF format.
You will need Adobe Reader 9.0 (or higher). If you don't have the reader installed on your computer, you may download the latest version free of charge from http://get.adobe.com/reader/otherversions/.
The forms cannot be opened in a web browser, and are not compatible with mobile devices.
Information about obtaining and submitting a paper copy can be found at the bottom of this page.

Step 1: Download the required form
Click on the appropriate link and the form will automatically be saved to your computer.
Step 2: Complete the form
Locate the downloaded file on your computer.
You may need to go to your download/saved file location if the PDF form is not readily visible on your screen.
Open the file with Adobe Reader, fill it in (or print it and fill it in by hand).
Save it. You can save you data and re-open the file later to enter additional information.

Step 3: Check for completeness
You are required to answer all questions we ask about you.

If you are completing the form in Adobe Reader, the required questions are

highlighted in red.

You are also required to answer all the questions we ask about your spouse/partner, if you have one.
Incomplete review forms will not be processed. Please ensure that you complete all required fields.

Step 4: Gather your supporting documents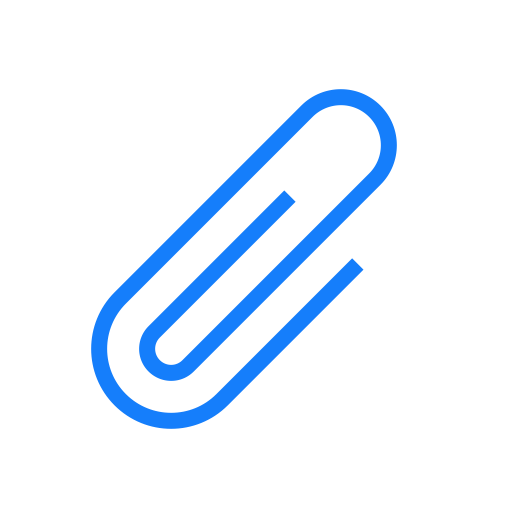 For the Review of Continued Eligibility, where a paperclip is displayed, see the description of the required supporting document.
Your documents can be in paper format, or digital format, or both.

If you have paper documents and you do not have access to a document scanner

you can submit a digital picture of the document.

If you have information that can only be accessed on a website

you can submit a screenshot of the web page.

NOTE: Digital pictures and screenshots must show the full page and include your name and must be easy to read.

If you are not able to obtain a good digital copy of a paper document

you can send the paper version by mail or fax (address and fax number at the bottom of this page).

Please add a note on the review form, indicating what document was sent separately and when. There is an 'Additional Notes' section on page 5.
Step 5: Submit your completed Review of Continued Eligibility form, or Consent form, and supporting documentation
You have 2 options for submitting your information.
Option 1 - Secure File Transfer (PDF application forms and digital files)
Go to https://send.novascotia.ca/form/CCSR

Choose your caseworker from the drop-down menu.
Enter your email address and name.
Choose the files you want to attach;

The Review of Continued Eligibility or Consent form pdf
Files of the required supporting documents.

Click the 'send' button.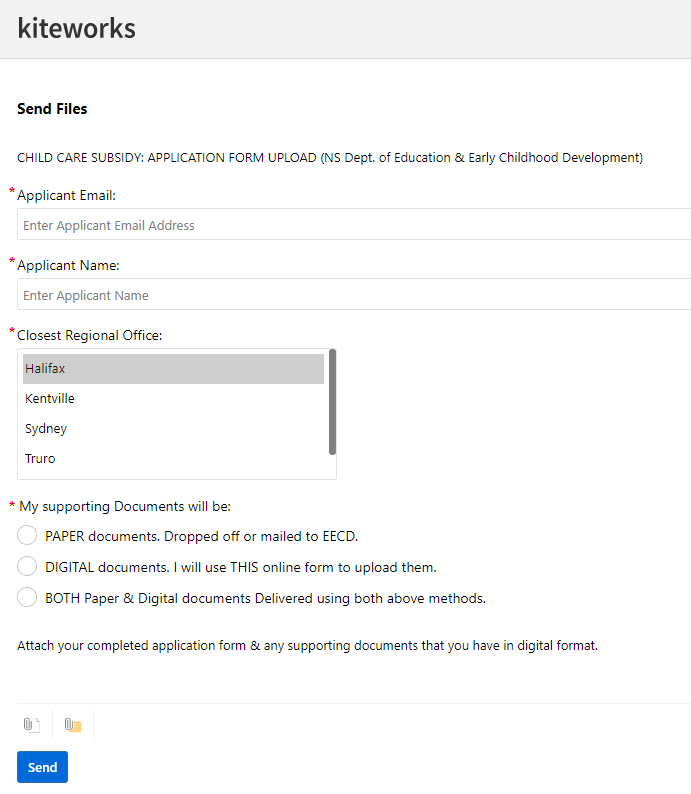 Option 2: Submit a paper version of the form and supporting documents.
Print the form, or request to have a paper form mailed to you.
Fill out the form and sign it.
Gather copies of your supporting documents.
Mail, or hand deliver, the form and documents to the following address;

Department of Education and Early Childhood Development:
Early Years Branch / Direction du Développment de la petite enfance
2021 Brunswick Street, PO Box 578,
Halifax, NS B3J 2S9

Supporting documents can be faxed to (902) 424-7714.
Please Note: Before you send your completed Review of Continued Eligibility, ensure you have filled in all the required fields and have attached all the required documents.
If your Review of Continued Eligibility is not received with all the required information attached, by the due date that was provided to you by your caseworker, it will be considered incomplete and you will no longer be eligible for subsidy.
If you do not have all the information we requested, or if you have questions, please call 1-844-804-2084.
Once your complete review is received, it will be assessed within 4 weeks. You will be notified of the results.