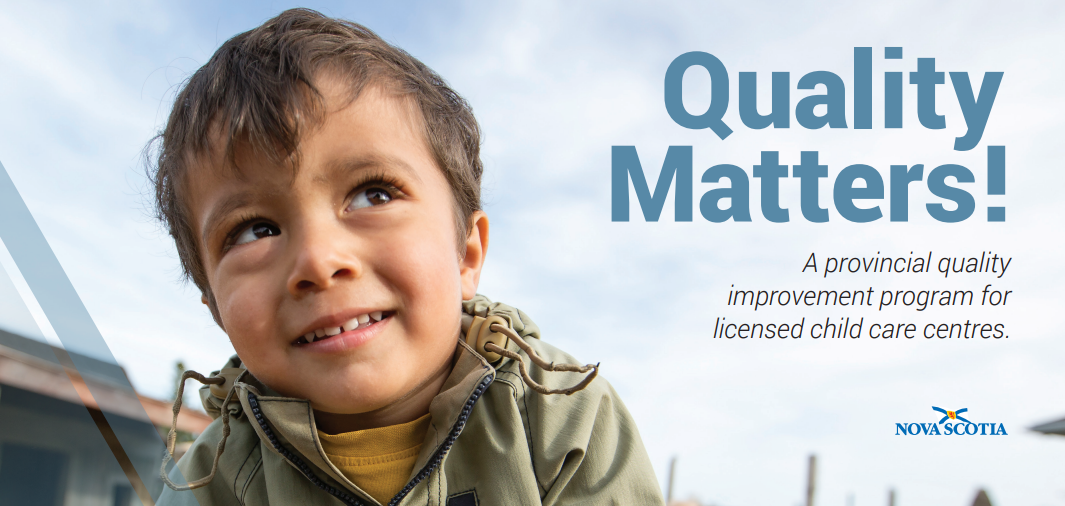 Quality Matters (QM) is a province-wide assessment program that will be used to determine eligibility for funding for licensed child care centres.
It is based on evidence-based research regarding the importance of quality early childhood education experiences for children, and informed by international practices to support quality improvements in licensed child care centres.
The purpose of Quality Matters is to ensure that eligibility to receive provincial funding for licensed child care centres is directly linked to meeting specific outcomes in the following:
Compliance with provisions of Nova Scotia's Early Learning and Child Care Act, Early Learning and Child Care Regulations, and licensing and monitoring activities;
Accountability for provincial funding, including compliance with the conditions of the Funding Agreement and the accompanying terms and conditions for each of the grants received; specified in the written agreement as well as financial reporting requirements that are established by Education and Early Childhood Development;
Program Quality focused on four keys elements of quality that are measured through a self-assessment and strengthened through a Continuous Quality Improvement process. The elements are aligned closely with Nova Scotia's Early Learning Curriculum Framework.


Videos
Introduction
Compliance
Accountability
Program Quality
Continuous Quality Improvement
Consult the following documents for more information:
Quality Matters!
A new, provincial quality improvement program for licensed child care centres. (information sheet)
Centre Quality Matters PDF fillable templates (June 2021)
Leadership: Professional, Pedagogical, and Administrative
(template 1)
Staffing: Qualifications, Professional Development, Human Resources, and Compensation
(template 2)
Learning Environments: High Quality and Inclusive
(template 3)
Relationships: Interactions and Partnerships with Children, Parents and Families, Staff, Other Professionals, and the Community
(template 4)
Quality Improvement Plan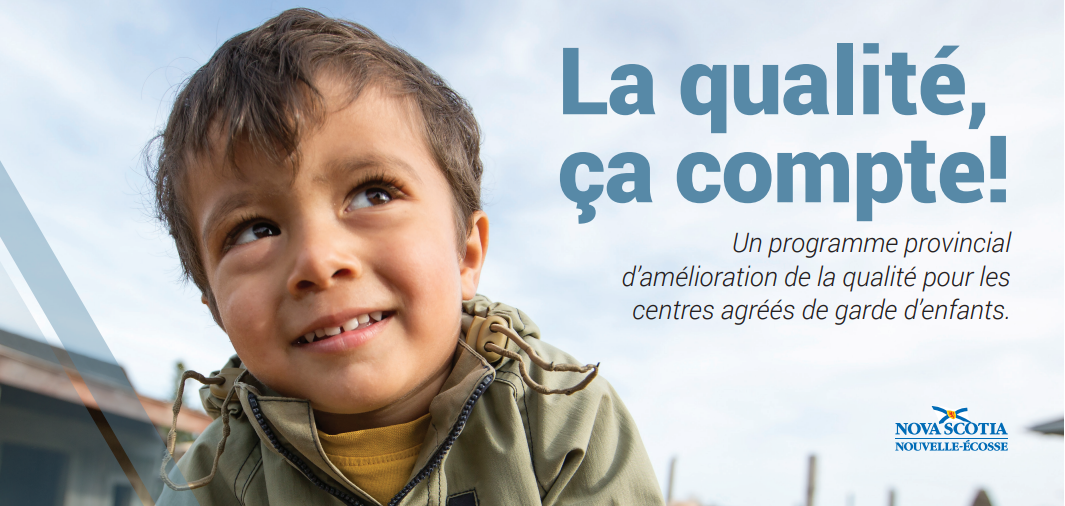 Vidéo
Introduction
Conformite
Transparence
Qualite des programmes
L'amelioration continue de la qualite
Consultez les documents suivants pour plus d'informations:
La qualité,ça compte!
Un nouveau programme provincial d'amélioration de la qualité pour les centres agréés de garde d'enfants. (fiche d'information)
La qualité, ça compte! : modèles (juin 2021)
Leadership au niveau professionnel, pédagogique et administratif
(modèle 1)
Dotation (compétences du personnel, perfectionnement professionnel, ressources humaines et salaires)
(modèle 2)
Milieux d'apprentissage (de haute qualité et inclusifs)
(modèle 3)
Relations – Interactions et partenariats avec les enfants, les parents, les familles, le personnel, les autres professionnels et la communauté
(modèle 4)
Plan d'amélioration de la qualité (PAQ)