Artists in Schools 2021-22
Writers in the Schools
Offered through the Writers' Federation of Nova Scotia, the Writers in the Schools (WITS) program helps connect professional writers and students across Nova Scotia.

WITS encourages students' enjoyment of reading and writing and engages students in the development of literacy skills.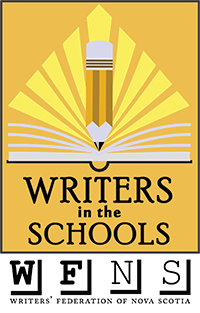 For the 2021–22 academic year WITS will provide in-person and virtual visits for students from grades primary to 12.

WITS visits are as diversified as the authors, and topics can include (but not limited to) the fundamentals of fiction, non-fiction, illustration, poetry, LGBTQ+ representation & history, graphic novels, science-fiction/fantasy, scientific/academic writing, and the African diaspora.

Detailed information about presentation options can be found at www.writers.ns.ca. Questions about the program can be directed to Linda Hudson at wits@writers.ns.ca

Payment for the program is as follows:
Half Day (2 sessions, 45-55 minutes) $75
Full Day (4 sessions, 45-55 minutes) $150

For the 2021-22 academic year, WFNS has additional funds to cover the entire cost of a WITS visit for schools with financial constraints. Please contact WITS coordinator Linda Hudson at wits@writers.ns.ca or 902-423-8116 for more details.

Deadline:
Requests for writers may be submitted throughout the school year.

WFNS started accepting applications on September 8th, 2021 and will do so until all the funding has been allocated.

Please try to apply early. We want to accommodate as many schools as possible during the academic year.


For more information:
Web: http://www.writers.ns.ca
Phone: (902) 423-8116
Email: wits@writers.ns.ca